It takes a lot of effort and dedication to live stream a video that an audience would love to watch for more than 10 seconds. Whether you are in it for fun or business; if your videos are of low quality, your audience will not be enticed to watch and find out what your content is all about.
A good way to improve the quality of your videos is by investing in quality live-streaming equipment. Basically, a complete live stream equipment pack comprises a video camera, audio recorder, and accessories such as lighting equipment, and video encoder.
The quality and complexity of equipment will vary depending on your budget and the purpose of your videos. But even on a tight budget, you can get quality equipment with ample research.
This article gives a breakdown of the most sort-after streaming equipment, depending on how much you want to invest.
Video Cameras for Live Stream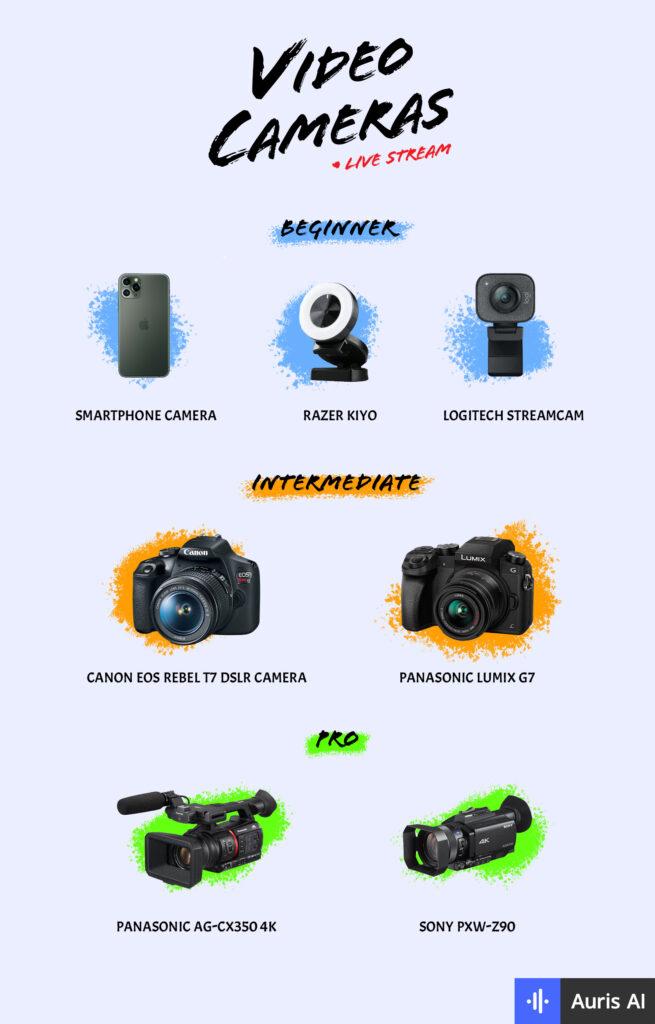 Entry-level video cameras
Video cameras in this category strike a balance between an extremely tight budget and good quality. As a beginner, you are trying to work your way around the content creation niche and are probably creating for fun.
At this stage, you can either do webcams, your smartphone camera, or a budget-friendly action camera.
Webcams connect directly to your computer and have inbuilt microphones
Smartphone cameras are also a good alternative but not all smartphones will guarantee quality videos. You may need to invest in one that has a resolution of 1080p or more for clarity.
Action cameras: These are ideal for adventurers vlogging where there is a lot of movement e.g hikes.
One budget-friendly action camera is the GoPro Hero series camera that is, GoPro Hero 10 or 11. The upgraded version of Go Pro Hero 10 offers 23MP photos and 5.3K video resolution at 60fps. With just a budget of $400, this would be a real value beginner camera that allows live streaming at 1080 p resolution.
Razer Kiyo also makes a good entry-level webcam that streams at both 720p resolution at 60 fps and 1080 resolution at 30fps for Full HD. It has a standard 4:3 aspect ratio that guarantees zero image distortion while streaming. The camera also comes with an inbuilt microphone and LED ring that helps to improve the lighting.
Logitech stream cam. This is also another great budget-friendly camera; capable of streaming in full 1080p HD resolution at 60 fps. The gadget comes with a premium glass lens with Smart Auto-Focus that captures vibrant and quality images.
Prosumer Video cameras
If you are looking for a little bit of complexity and you have the skills to adjust and optimize the functionality of cameras, prosumer cameras are for you. These cameras also suit people who intend to invest in content creation as a side hustle under budget-friendly terms.
You can either go for a DSLR or mirrorless camera for maximum results. The image quality is much better than that of beginner cameras.
A number of content creators have recommended the Canon EOS Rebel T7 DSLR Camera. It has an 18-55mm Lens, built-in Wi-Fi,24.1 MP CMOS Sensor, and allows streaming in full HD.
Alternatively, you can go for mirrorless cameras which are much smaller, lighter, and quieter due to the elimination of the moving mirror. A good selection is the panasonic lumix G7
Professional Streaming Cameras
If videos are the backbone of your business then good equipment investment is inevitable. You need a 4K video camera that captures more details than HD cameras.
Panasonic AG-CX350 4K is one of the go-to 4k cameras. This camera features 4K/UHD resolution; providing high-quality live streams. It also has a variable frame rate capability from 1 to 60 fps in UHD and 1 to 120 fps in HD.
Sony PXW-Z90 camcorder is also an effective pro-level video camera. It delivers 4K High Dynamic Range (HDR) content with HLG and is suitable for various types of corporate events.
Audio Equipment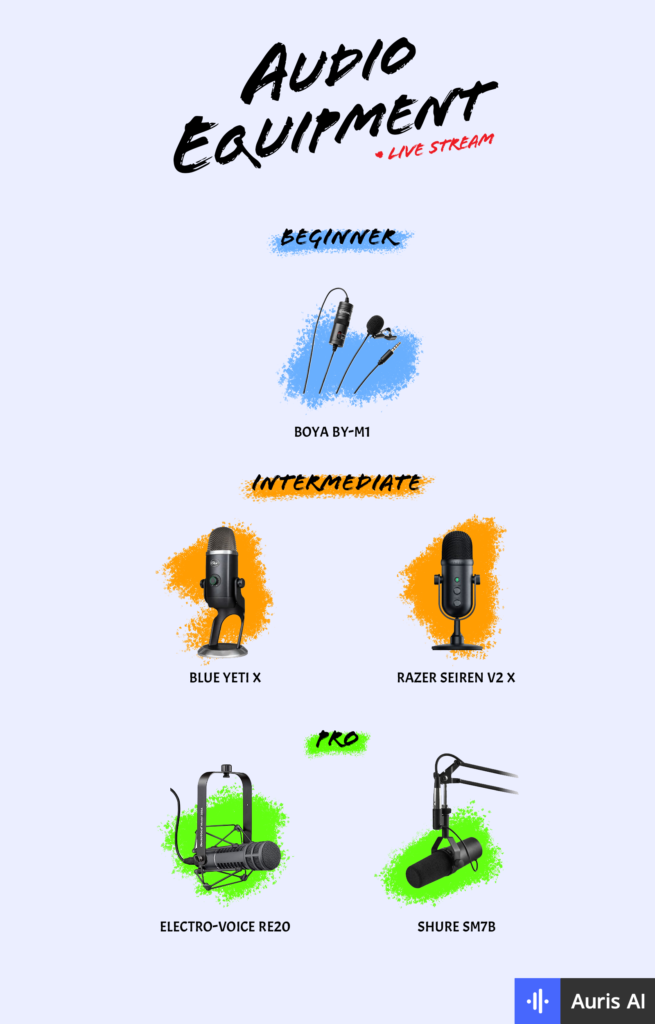 Consider this an accessory because most video cameras come with an inbuilt microphone. However, should you find the audio quality to be below average, then a more equipped audio gadget would be the go-to solution. You want a mic that concentrates on the conversation or particular sound and not outside noise.
In this section, we look at the three different categories of microphones which helps with the selection process.
Omnidirectional-Picks sound signals with equal strength whether the sound is from the front, back, left, or right side. Unidirectional microphones focus on the highest sound signal out of all the signals within its surrounding.
Bidirectional-Picks sound signals with equal strength from front and rear but not the sides.
Cardioid microphones: These pick up sound from the front and sides but poorly from the rear. Their directional sound pick-up is heart-shaped in nature hence the name cardioid
Starter-pack audio equipment
For starters, Boya BY-M1 is a good pick. It has an omnidirectional polar pattern, high sound quality, and is compatible with most cameras, smartphones, and computers.
Mid-profession audio equipment
For just $130, Blue Yeti USB gives you the opportunity to choose from its four different pickup patterns which allow you to record vocals for music, podcasts, and other forms of streaming.
3. Audio Equipment for Professional Streaming
Electro-Voice RE20 is an XLR microphone that delivers high sound quality but requires an audio mixer to work. It picks signals in the cardioid direction and works well for podcasts, voice-over work, talk shows, etc.
Shure SM7B: This dynamic microphone enables live-streaming and podcast recording with its cardioid pattern. It connects to devices through an XLR connection
Live Stream Accessories
A complete streaming equipment package comprising a video camera and microphone will work with or without these accessories. However, the accessories will help improve quality by giving you stability in the case of mounting stands(tripods) or lighting( for ring lights) and many more.
1. Lighting Accessories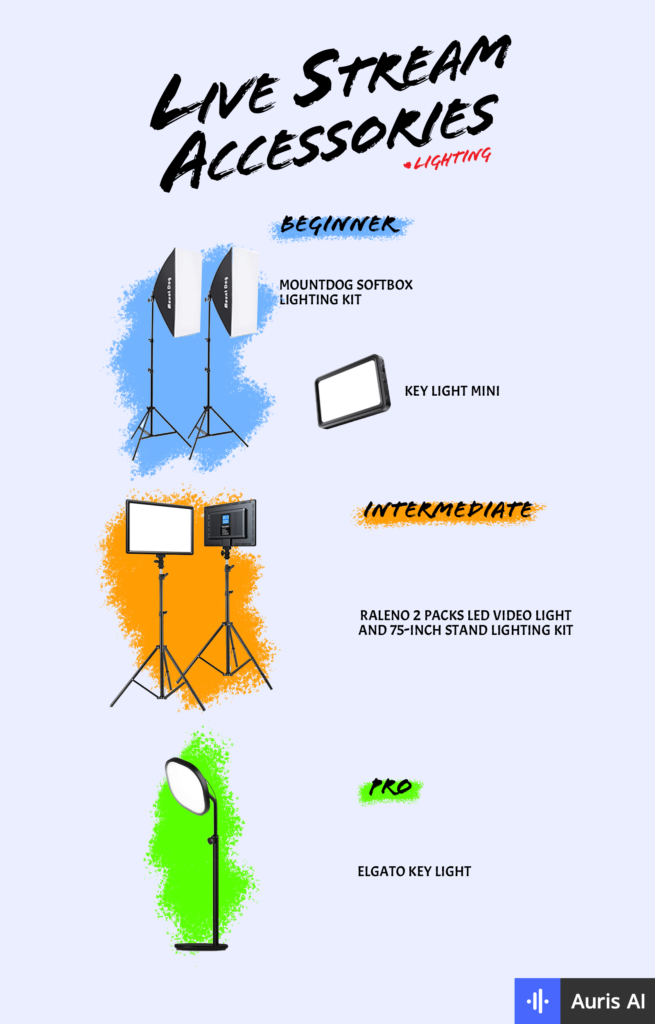 Beginner Lighting Accessories
Natural lighting: Works best in well-lit rooms and for outdoor activities. If not, you may need to upgrade your lighting to improve content quality.
Mountdog softbox Lighting kit. For a beginner, this set has everything you need to go live with easy setup instructions. It has three modes of adjustment; white, warm, and cold light.
The Key Light Mini is also an effective entry-level lighting accessory that allows you to switch between cool and warm lighting tones that suit your environment. It has 800 Lumens, 2900 – 7000 K: Bright and fully dimmable.
Intermediate professional Lighting Equipment
At the prosumer level, you can go for the beginner-friendly lighting equipment, as mentioned above or RGB lights to add more visual effects to the content. The latter allows you to use one of the dozens of colors and patterns included, to create a color scheme that matches your branding.
RALENO 2 Packs LED Video Light and 75-inch Stand Lighting Kit is one of the best-rated RGB lightings with a color temperature range of between 3200K-5600K and brightness which can be adjusted according to the environment.
It works effortlessly with DSLR cameras, camcorders, light stands, and tripods.
Pro-Lighting Equipment
Elgato Key Light is a sort-after budget-professionalism combo for content creators. It has 800 Lumens; enabling you to illuminate your entire workspace. The 2900 – 7000 K color range allows you to change to a color temperature that suits your background.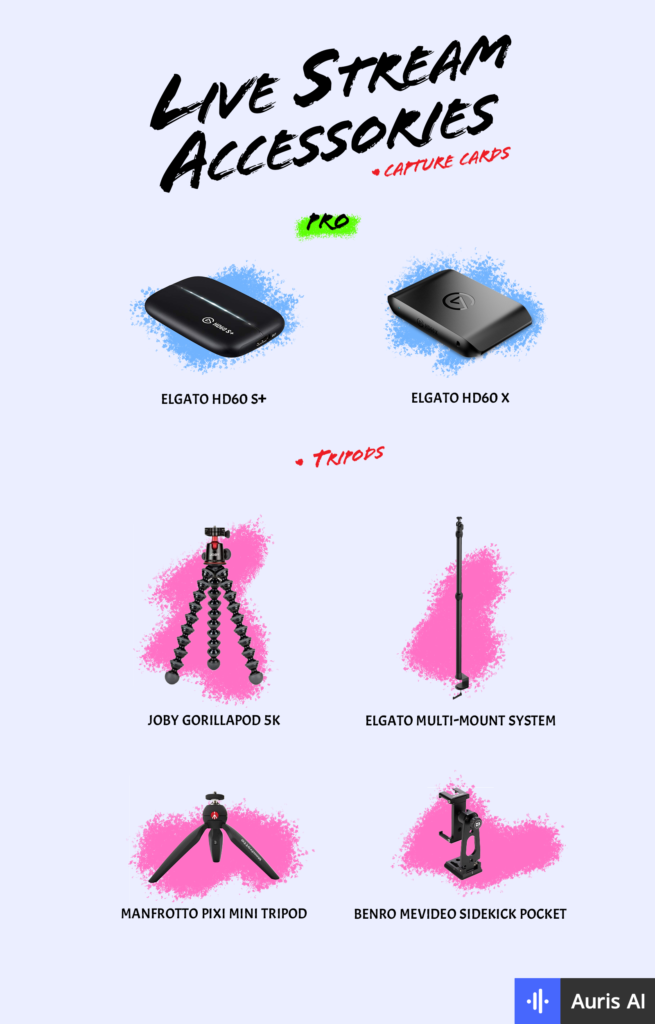 2. Capture cards
Capture cards allow you to record and edit content at your convenience before posting to a streaming platform. Check for the Ultra HD or 4K specification while buying a capture card because it guarantees quality video streaming.
Elgato's HD60 S+ is the best capture card for 1080p streaming at 60fps. It also allows you to see the image at a higher resolution because of its passthrough that supports 4K, 60fps, HDR10, and zero latency
Elgato HD60 X is another go-to option as it connects to devices via USB-C and works with a wide variety of streaming and capture software like Twitch, YouTube, etc.
3. Tripods
A durable tripod stabilizes and elevates your camera to make outdoor streaming a walk in the park. Floor-mounted tripods work best with heavier devices such as DSLR cameras along with equipment such as external microphones, etc.
Tripod selection is more about durability and how easy it is to carry from one place to another. It may be less pricey but gives the service of a high-tech version of a tripod.
Some of the recommended tripods are the Elgato Multi-Mount System and Manfrotto PIXI Mini Tripod. The price range is between $25-$50 which is cost-effective for the service that they give.
You can also decide to take it a notch higher with the Benro MeVIDEO Sidekick Pocket; an advanced tripod that offers several mounting options and lets you shoot at whichever angle with its 90° mount rotation.
Best Translation Website for Your Live Stream Videos
Quality live-stream equipment gives your audience a commendable experience with your videos. During and after the live stream session, you want to ensure that even the non-native audience is not left out due to the language barrier. Smoothly translate your content into universal languages with the help of Auris AI.
if you're also looking to expand your audience with other social media channels, check out our guides below: